Kings Heath BID supports LGBTQ+ community initiatives
The Kings Heath BID is proud to be an inclusive community.
We are proud to be part Queens Heath organising team. The Queens Heath celebrations which takes place annually to celebrate the LGBTQ+ community.
We also support and recognise the importance of local initiatives that work with the LGBTQ+ community. 
MOSAIC – A safe space for LGBTQIA+ young people aged 11-19 years old in Kings Heath!
For over 20 years the All Saints Youth Project have been supporting young people and their families. They offer youth activities, inclusive support groups for adults with additional needs, family support, one-to-one counselling, as well as support for LGBTQIA+ identifying young people.
MOSAIC is a group which provides support, friendship, and a safe space for LGBTQIA+ identifying young people aged 11-19 years old.
Activities include arts and crafts,  games, and focused projects, while having a safe space to chat with other young people and youth workers about their identities.
The Young People also help shape the future of the MOSAIC group, ensuring it is always relevant to them and helping it grow and continue to offer support and friendship for all who need it.
For more information, contact Chelsea on c.moorhouse@asyp.org.uk or visit their Instagram page @allsaintsyouthproject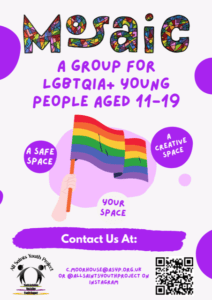 If you are a local organisation please get in touch to add your details to our list!